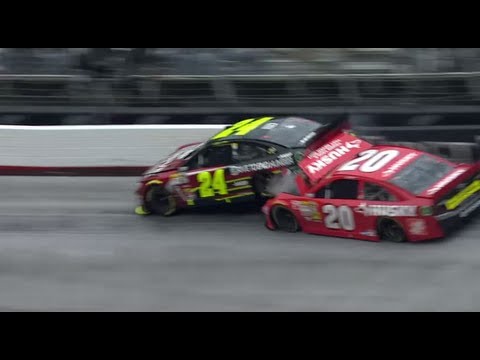 Kasey Kahne scored his first Sprint Cup win of the season - and first at Bristol Motor Speedway - when he took the checkered flag in Sunday's Food City 500.

Kahne registered his 15th career Sprint Cup win and became the fourth different winner of 2013.

Kyle Busch and Brad Keselowski were in a furious battle for second with Kurt Busch lurking as Kahne sped away with the lead to take the victory.

"Racing Brad and racing Denny (Hamlin) was tough and Matt Kenseth was really good," Kahne said. "It was a big win for us.

"This has been a tough track for me at times. For this whole team to step up and get it together, we've prepared pretty hard this year and it feels good to win."

Kahne was able to move up a spot after his second place effort last week in the Kobalt Tools 400 at Las Vegas Motor Speedway where he led the most laps.

"This is a big win," Kahne said. "I love racing for Hendrick Motorsports, Rick Hendrick and the opportunity he gives up. This whole team was flawless again today. Last week, today and the whole season so far."

At the checkered flag it was Kyle Busch, who was penalized for a pit road speeding violation earlier in the day for a second straight week, ahead for the runner-up spot.

"Yeah, it was a good run for us battling back from our pit road penalty which we need to stop," Busch said. "If we didn't have so many of those, we'd be a lot better off. Being able to work on our car further up front, there's a difference when you run back in traffic.

"All in all we battled back. Crew chief made some good calls. Pit crew did a good job on pit road. You got to hustle it and drive hard out on the racetrack, especially after restarts, get what you can get."

Keselowski, Kurt Busch and Clint Bowyer rounded out the top five.

"I don't think I had anything for Kasey, I don't know if anyone did," said Keselowski, the defending race winner. "He was good through the middle, really everywhere. In a league of his own. I'd be damned if it was going to keep me from trying.

"He drove a good race, got himself in position, worked me over. Somehow worked through traffic and got back by him. Obviously that last yellow, I haven't seen a replay of what happened, but cost us the lead. Kind of hung in there and raced Kyle here pretty hard for second, then Kurt came in and raced pretty hard for third. Had a good battle going there. Kind of hated to see that one come to an end."

Dale Earnhardt Jr. Ryan Newman, Brian Vickers, Paul Menard and Jamie McMurray completed the first ten finishers.

It wasn't a good day for some of the sport's biggest names including Tony Stewart, who blew a tire and crashed into the wall just nine laps into the race.
Jeff Gordon and Matt Kenseth were running first and second on lap 391 when disaster struck the frontrunners. Gordon cut a tire and slammed the third turn wall leaving Kenseth nowhere to go except into the rear end of the Hendrick Chevrolet with a violent impact.

"I really hate we collected Matt Kenseth," Gordon said. "He had a great car and he was coming."

Kenseth was trying to win for a second straight week after his Las Vegas victory last Sunday.

"We had a great car - there was just nowhere to go," Kenseth said.

Joey Logano had been racing Gordon hard for the lead earlier in the event. But he was clipped by Denny Hamlin and hit the wall. The rear of the Shell/Pennzoil Ford was damaged but Logano did return to the track.

However, following the race Logano confronted Hamlin, who had to exit the track in the closing lap for a cut tire, and the two drivers' crews became involved in a bit of a shoving match.
"It's ridiculous," said Logano. "I understand the way he races now that he's not my teammate. I'm going to race him the same way'' (Read More)

There were 17 lead changes among 10 different drivers. The race was slowed by 10 caution flags for 66 laps.

Keselowski is the Sprint Cup Series point leader by nine over Earnhardt Jr. with Jimmie Johnson, Clint Bowyer and Greg Biffle the top five.

The NASCAR Sprint Cup Series now heads to Auto Club Speedway for next Sunday's running of the Auto Club 400, which will air on the Motor Racing Network.